Employee onboarding is the process of getting new hires up to speed and helping them be a part of the company. The Mellon Financial Corporation discovered that companies lose between 1% and 2.5% of total revenues due to lost productivity related to getting new hires up to speed and trained. If handled properly, onboarding is a powerful tool for retaining the company's new employees long enough to compensate for the cost. Various research indicates that successful onboarding provides not only higher retention rates but also higher productivity results. A study by Glassdoor found that organizations with a robust onboarding process improve new hire retention by 82% and productivity by over 70%. Therefore, creating a structured and systematic new hire program is well worth the effort. Below are five onboarding strategies to highlight: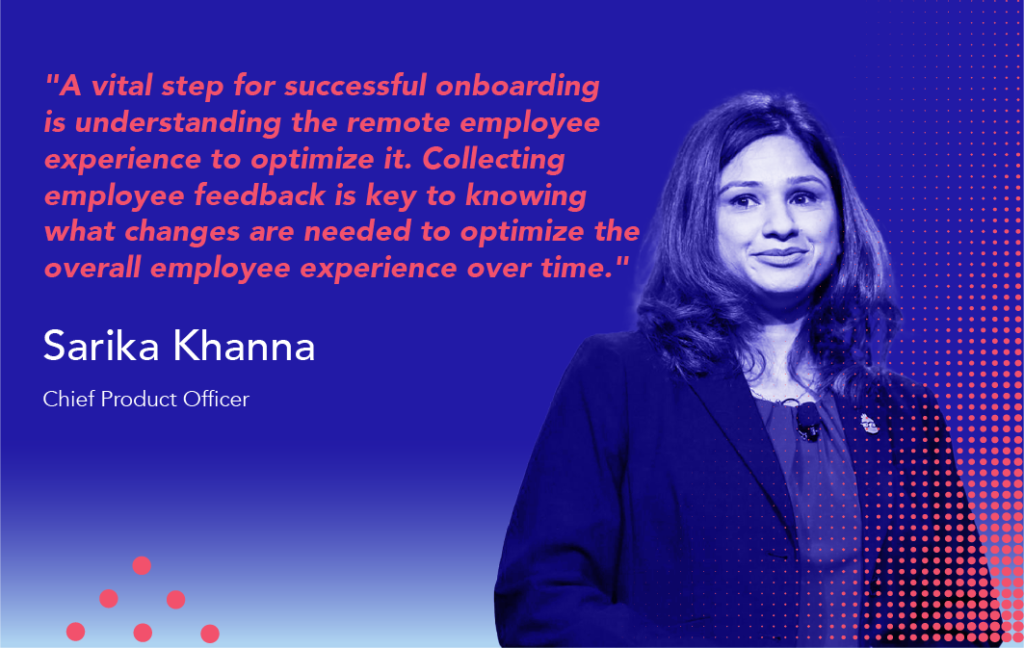 1. Entrance interviews of Designer Blinds
As Sarika Khanna, Chief Product Officer at Medallia, noted, "Today's remote onboarding strategies include interaction plans, remote learning, buddy systems, and video conferencing, but a vital first step for successful onboarding is understanding the remote employee experience to optimize it. Collecting employee feedback is key to knowing what changes are needed to optimize the onboarding process and overall employee experience over time."
Designer Blinds, an Omaha-based company, discovered that they have a severe turnover problem. Most of their new hires leave between 90 and 180 days after the recruitment. After implementing "Entrance Interviews" into the employee orientation process, the company has reduced the turnover rate from 200% to 8%. Entrance interviews highlighted new hires' needs more clearly, and the company could manage to help them fit more successfully into their new positions.
2. Five-Point checklist of Google
Google uses an online checklist to remind managers to review the process with the new hires. To spare busy managers from the burden of long documents or e-learning, Google sent a just-in-time reminder checklist. The goal is to trigger managers about the five small tasks and speed up the ramp-up time of their new hire:
1. Have a role and responsibilities discussion.
2. Match your new hire with a peer buddy.
3. Help your new hire build a social network.
4. Set up onboarding check-ins once a month for your new hire's first six months.
5. Encourage open dialogue.
Statistics show that the newcomers whose managers followed this checklist became effective in their roles 25% faster than other employees.
3. iBuddy of Apple
Managers should remain active during the new hire journey. However, matching the new hire with a peer buddy is crucial to help new hires get oriented in their new role. Onboarding buddies play an essential role in ensuring a successful onboarding experience, whether virtual or in-person. In "Leading Apple with Steve Jobs," Jay Elliot details the Buddy System in Apple as follows:
"It was also important for new employees to be connected to people who really understood the Apple culture, so we would assign each new hire to someone in the organization—someone the person did not know—who would become the newbie's "buddy." The buddy's job was to give answers and provide support or reassurance as needed, whenever the new hire had questions or concerns about Apple or his own job."
Microsoft tested the buddy program's efficiency by looking at the difference in hires who were assigned onboarding buddies versus those who were not. The research shows that after their first week on the job, new hires with buddies were 23% more satisfied with their overall onboarding experience compared to those without buddies. This trend continued at 90 days, with a 36% increase in satisfaction. Those with buddies also reported receiving more active support from both their manager and the broader team.
4. Find the right fit: "Pay to Quit" of Amazon
To detect those who are not a good fit for the company, Amazon adopted Pay to Quit program. It was Zappos (one of Amazon subsidiaries) who applied for the program initially in its onboarding process. "Once a year, we offer to pay our associates to quit," Amazon CEO Jeff Bezos told Time Magazine. "The goal is to encourage folks to take a moment and think about what they want," Bezos writes in a 2014 shareholder letter. According to the Pay to Quit program, the company offers fulfillment-center employees one-time payments to leave Amazon. Each employee gets the offer once a year. The first time, it's for $2,000. The offer increases by $1,000 each year that up to a maximum of $5,000. The company says it only wants employees who want to be there. Those who accept the offer can never work at Amazon again.
Michael Burchell, workplace culture expert and author of the book "The Great Workplace: How to Build It, How to Keep It and Why It Matters," says that employee engagement tends to be about two things: commitment to stay and discretionary effort. According to Burchell, it enhances employee engagement and is cost-effective in the long run. "If you choose not to take the money and you choose to stay, it means that you're committed to the organization and committed to your work. It helps to frame the employer/employee bargain or that psychological contract," says Burchell.
5. Vodafone's Digital Onboarding for the First 90-Days: Journey
The First 90 Days, written by Michael D. Watkins, has become the bible of onboarding and career transitions. Indeed, the first 90 days play a significant role in the employee life cycle. According to a study by BambooHR, an HR technology company, approximately 17% of new hires leave within the first three months at a new job, while 30% leave within the first six months.
To improve the new employee experience in this period, Vodafone decided to digitize all new employees' onboarding. Through a mobile app called "Journey," the company diagnoses each new employee's first 90 days' needs and pain points and delivers them the right experience at the right time. The company uses the Journey app as a "digital buddy" at its stores, headquarters, and call center for new hires.
Journey also nudges managers to create simple yet effective assignments for meeting with key contacts, 90-day onboarding goals, and conducting regular check-ins. All the necessary information and documents, which a new employee may need, are provided daily, as programmed on the platform.
Sevil Kayas, Vodafone Head of Talent Strategy and Development, summarizes the process as follows: "Journey is a wonderful app for us that addresses the critical needs of the onboarding process, such as digitization, creating personalized content, and accessing the right information at the right time."
If you want to learn more about new hire onboarding, you can check out our blog posts here.