Last Updated on November 2, 2021 – 3:34 pm
As this year comes to an end, companies prepare to lead teams into a newly mapped future. We attended this year's HR Tech Conference & Exposition in Las Vegas and obtained first-hand information on the direction the HR industry is expected to grow.
For three days at the HR Tech Conference, we had a chance to meet excellent visitors from all around the world and discover various vendors with diverse technologies. It was a fantastic experience for us to attend an in-person event since 2019, and we got inspired by great speaking sessions and researches.
Industry analysts like Josh Bersin and other notable speakers covered the Great Resignation, the importance of HR technology and innovation during the pandemic, and bringing true diversity into the workforce.
Here's a summary of the top 8 topics that we found excited at the conference.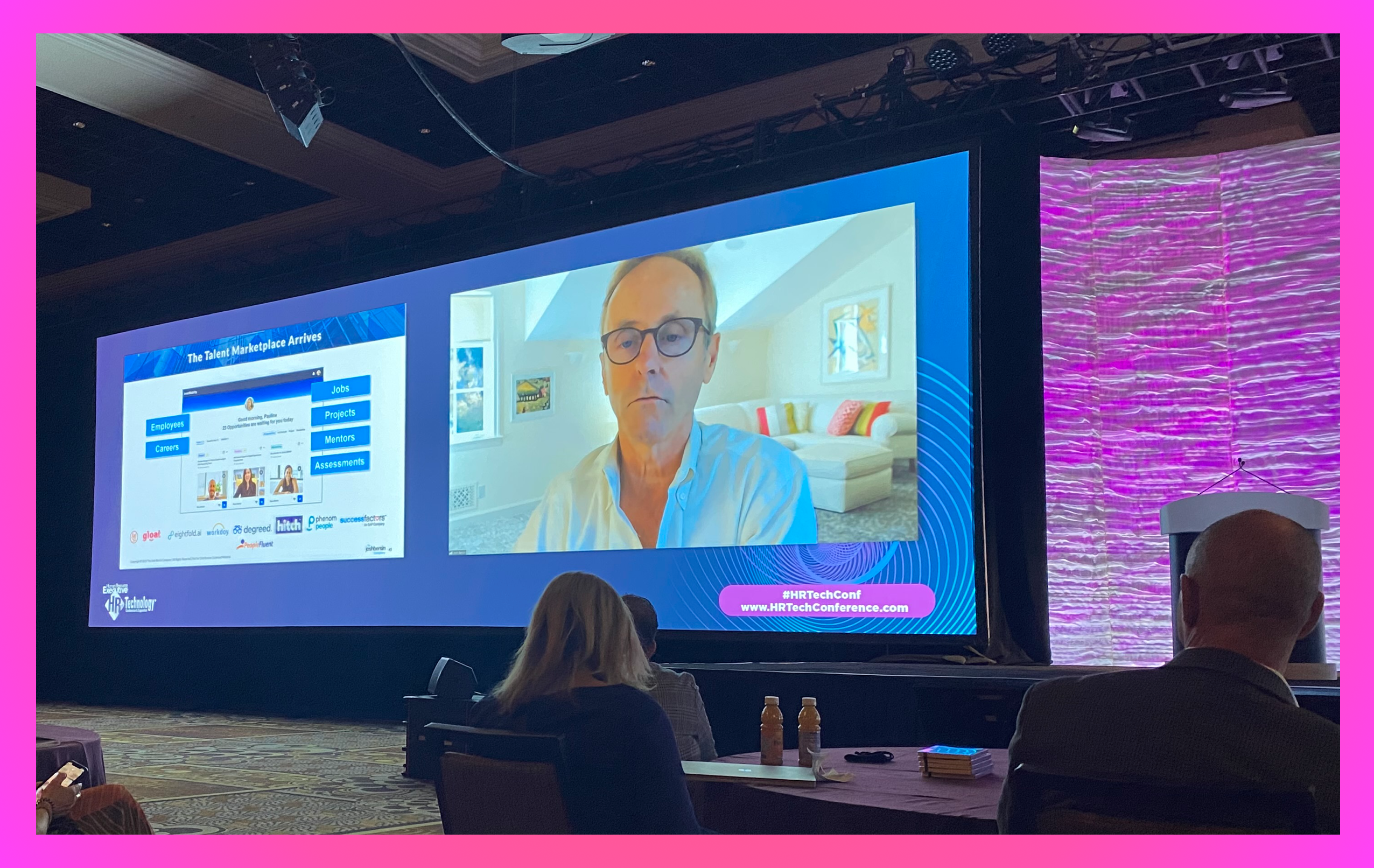 1. Integrated Focus on Employee Experience
The COVID-19 pandemic prompted a permanent radical transformation of the way people work. The hybrid work model requires an integrated focus on employee experience (EX) instead of the previously narrow focus on employee engagement and culture. The adoption of tools and platforms in the workplace is rooted in the strive for genuine engagement, support, and care for employees. 
A survey by Sapient Insights found that organizations' tech spending increased by 57% from last year. The main focus is learning, recruiting, HR analytics, skills management, and benefits and wellness. Numbers show that: 
Twenty-four percent (24%) of organizations deploy a formula application for managing skills.

Fourteen percent (14%) of organizations plan to purchase a new application in the next 12 to 24 months.
The driver of all of this is the hybrid work environment that's here to stay. Technology solutions and their vendors played a significant role in successfully managing employees during the pandemic. They revealed that HR technology added more value to the experience than they would've admitted through this unprecedented time. 
Valuing and recognizing the talent in a company — expressed through onboarding and performance management — brings a positive metric score. Research shows that:
Employees who experience a formal onboarding process are 

8.5 times more likely

 to say that HR is Value-promoting than those without formal onboarding.

Employees who receive the most frequent attention on their performance are 4.4 times more likely to say HR is Value-Promoting than those who receive no performance attention. 
According to the most notable speakers, EX is at the core of the HR Tech market. At this stage, companies are focused on the "experience layer" of learning — workflows, user-portals, and support services. The challenge is how to integrate all of these platforms into a cohesive leadership landscape?
2. Upskilling & Reskilling More Important Than Ever
The rise and integration of talent intelligence systems and skills engines across all talent is a significant part of the future of work. For now, employers don't have an integrated platform that gathers data on skills, so they should focus on upskilling and reskilling to retain talent. 
Research shows that around one-quarter of all employees leave their current role because the company offers little opportunity for professional development. Deepening and advancing an employee's competency (upskilling) and teaching the employee new skills (reskilling) helps talent to maximize potential and add value to the company. Solutions focused on upskilling and reskilling areas such as Journey provide continuous development and engagement in the workplace while increasing retention.
Journey helps to upskill your team with hands-on, actionable guidance and continuous follow-up. It assists managers in identifying critical skills that affect business performance and building an action plan that allows teams to learn and develop in the flow of work.
That way, employees can try new things and learn new skills while feeling supported, encouraged, and valued. Find out here what Journey can do for your business and how you can improve your overall employee development success.  
3. ERP Standing Strong
ERP systems are experiencing growth and redefining their offerings. While many vendors have a set of features, they're adding more EX layers into their software, like learning, wellbeing, career, analytics, and performance management. 
The next big thing for EPR's is figuring out how to adapt organization model and job architecture or the "talent intelligence" in software that identifies and uses skills. The final goal is building a next-generation HCM that transforms administrative functions of HR into an opportunity to drive business value through engagement and productivity. 
4. Success Through an Internal Talent Marketplace
The pandemic brought greater visibility to existing challenges regarding leveraging talent across organizations. Companies should strive to deploy an internal "talent marketplace" as a separate category. Now that recruiting is hot, sourcing both internal and external candidates slowly opens the way to creating a talent marketplace as a separate category. 
This is closely related to upskilling and reskilling because internal mobility, gig work, and mentoring and coaching help identify and build new skills within an organization when these skills are highly requested on the market. 
A great example of an AI-powered internal talent marketplace is Unilever. The company increased workforce capacity by unlocking over 500,000 hours and saw a boost in productivity rate by 41%. The company redeployed 8,300 employees to positions of high demand within the organization.  
5. Learning in the Flow of Work
Gone are the days of long online courses and unpurposeful educational material. Today's employees want a specific learning experience, hence the shift to microlearning and self-authored resources. 
Research from Deloitte shows that organizations that implement learning in the flow of work regularly experience greater business outcomes and an increased talent experience. 
Learning in the flow of work is the future of employee learning because it allows them to get specific support from the team when they need it. So, they effectively solve the problem and spend less time "learning" content they don't know how to apply.
6. Growth of Employee Listening 
Through employee listening, organizations capture and understand employee experience. This extremely insightful trend goes beyond the simple survey system. The new and advanced market now includes approaches that do pulse surveys, open-ended surveys, annual surveys, crowdsourcing, video and audio analysis, and much more. 
Gathering the necessary information in one database allows service centers, managers, and HR business partners to have real-time insight into important analytics.
7. Integrated Talent Management    
Standalone performance management tools are being transformed into integrated software that helps individuals, teams, leaders, and HR manage performance, development, and reward. The three drivers of successful talent management are a rapid allocation of talent, HR's involvement in employee experience, and a strategically minded HR team.  
This goes back to effective deployment of talent based on skills needed, which directly affects the speed of allocation. Overall, nearly two-thirds of the fast allocators link their talent management effects to improved performance. The next-gen performance systems will be much more integrated and innovative. 
8. "Creator" Platforms in HR
With over $100 billion in valuation and over 40% growth over the last year, the creator economy (tools like Instagram, TikTok, Snapchat, Reddit, and the like) holds incredible power. And, it's coming to HR, which craves personalized learning content, feedback system, and employee journey based on communication.  
While in many ways HR platforms are becoming "creator platforms" — like Journey, which allows employees to learn directly from colleagues' experiences — the need for customization is there. Employees want to express their innovative ideas and create their own content without being limited by a tech platform that leads by design.